Angela Kennedy Responds. . . To Donna!
Well, Angela Kennedy, the poor waif imprisoned in a Gambian jail, has yet to respond to my own e-mail regarding her TRAGIC PLIGHT. Thankfully, she's apparently more responsive to a female query, and frequent commenter/reader Donna had a successful fishing expedition when she wrote the following:
Just for you Rhodes, I sent this off.......
I am in receipt of your letter and offer to help you get out of jail. However, the amount of money you are talking about is only about 8.00 US, so why would I bother to help a women get out of jail who has (by now) contracted all kinds of diseases, and is also a woman, which is useless to me as I am a woman, unless of course you could clean my house, and or cook my meals. How does that sound to you?
First off, hats off to Donna for even attempting to keep such communication going. Second off, congrats on her ability to write in broken English just like the original inquiry from Angela. Because Donna was able to write so believably (whereas my own e-mail was apparently too real, or male, or something, and didn't warrant a reply), Donna actually received the following response:
From: Angela Kennedy angelakenn777@yahoo.com
Subject: My wishes and photos
My dear, i did not contac disease ok and i am not poor to clean for you ok? i am more rich than you but i will not ask you to clean for me because you are my financial manager.
Congrats, Donna, on becoming Angela's financial manager!
i am worried to hear your voice, i want your phone number, but i cannot communicate through phone for now because In this prison there is no access to phone, but one of the prison warders told me that if i want to be calling you that i must give her phone calling registration money and she will give it to other of her colleagues and they will know that i have paid them for phone calling and register me. she said that they use to do it with some of the prisoners who have the calling money to register, she said that it is from the registration money that they will be buying calling cards from outside for me each time i want to call you. but the problem is that i have no any cash at hand to register, so because i dont have the calling registration money we can be communicating only through email.
But. . . I thought Angela was more rich than Donna? Now I'm all confused.
I want you to help me come out from here and i want it to be done soon, and i dont want even a single person from your country or Eritrea to know that i am in this prison, so that they will not send food poison to me in this prison, please it is for my safety and peace of mind. i will like to let you know that what i want first from this life is peace of mind, since the death of my daddy i have not been peaceful within myself because i dont know who is who in my town Asmara, i mean that i dont know who is my family friends and family enemies because they also burnt my daddy's cars and set our house on fire and that made me not to have peace of mind and i will never return to Eritrea.
Burnt her daddy's cars? Was he a car salesman? No wonder he was whacked.
Coming to the wishes for myself, the best wishes for me is for you to invest my wealth perfectly, i mean you making a profitable investment of the money, and while you take care of the investment and management of my wealth, i will be schooling in one of the best universities in your country, also tell me your best wishes.
You will never find a more wretched hive of broken English.
My problem is that Citi bank instructed me to appoint a foreign partner who will claim and receive the money on my behalf according to the agreement that my daddy signed with them. so i will write a letter to Citi bank and tell them that you are my foreign partner and the bank will surely transfer the money into your bank account for me, and from my money in your account you will buy your ticket and come to Gambia to use little part of the money to release me and take me with you.
Angela's plan. Let her show it to you.
My mind is strong because I know that through your bank Citi bank will give me your bank address and how to locate your bank address after the transfer, so i am very safe about how to locate you through your bank after Citi bank transfer the money into your account for me. And when i come to your country you will take me to your bank where my money is and i will withdraw all the money and redeposit it in 4 current or savings accounts with 4 big banks in your country and i will leave 10% of the 14.5m in your account as your compensation for helping me. I have attache my photos to this letter.
Because, a picture is so worth a thousand words, after all.
If possible do also scan and send me your photos. Always inform me before taking any step and hence-forth always write me through this my email : Angelakenn777@yahoo.com because i mistakenly allowed the prison warder computer operator to see the password of my hotmail address. I am waiting for your reply. Miss Angela Kennedy with all my love.
You know what? If she can't keep her Hotmail password a secret, that doesn't bode well for any future financial dealings, particularly if conducted from prison. Angela must be blonde.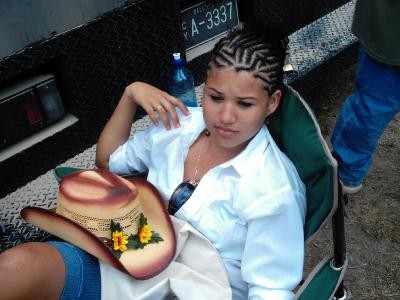 Okay, so she's not blonde, but for some reason she felt the need to PhotoShop a cowboy hat onto her lap. Also, in addition to computer access within her prison, she also has a photo scanner.
Ah yes, the seductive "I'm disinfecting this bottle of Gatorade" pose.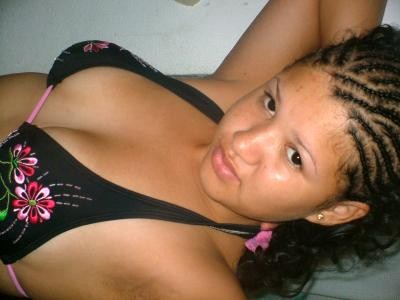 Here we have the "cheesecake" pose, which is usually a big hit with the boys, and perhaps some of the girls. Angela no doubt breaks out the bikini top any time she needs to entice the prison warders into letting her use the computer.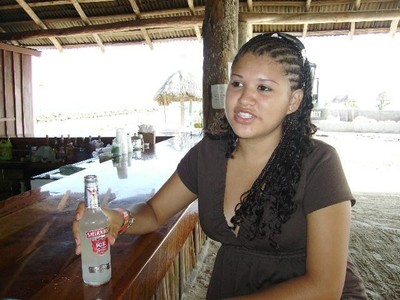 Finally, Angela discusses her traumatic prison ordeal over a Smirnoff Ice, and discloses how prison life can lead to unsightly acne on the left side of the mouth.