As Promised. . . CATblogging!
For the occasional sport, and of course for the sake of high art, my girlfriend and I put Kit and Kat in trees, and then she takes pictures of them. Featured here is Kit. He's about as smart as he looks in this picture which, as you can tell, isn't very.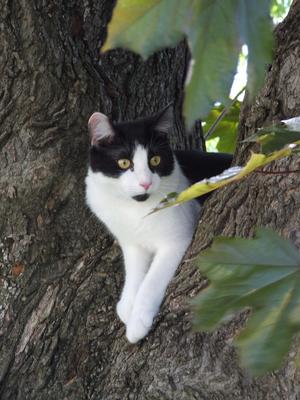 On the flip side of the coin, here we have Kat. He's only slightly smarter than Kit, by which I mean Kat has never peed on me, whereas Kit has. Kat is also strangely photogenic, owing probably to his black fur and white "socks." Come on, admit it, you secretly want to pet him.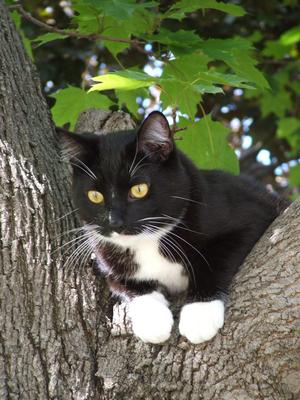 Kit and Kat will be one year old sometime later in August. Gifts are accepted, particularly expensive ones. Both cats are experienced automobile drivers, and I heard Kat the other day mewing something about really wanting a Chrysler PT Cruiser convertible. It was either that, or he coughed up a hairball. Whatever the case, if there's a PT Cruiser Convertible in my driveway sometime on or around August 21st, in my name, I'll be sure to transfer the title over to Kat as soon as possible, and I thank you, in advance, for the kind gift.

Posted by Ryan at July 15, 2005 12:01 AM | TrackBack