Blog Day Afternoons
I have been informed by my Sister-in-Law, one Jody Rhodes, that my blogging as of late has been at a certain level of suckitude. She is correct in this assessment. I have, indeed, been blogging at a less than stellar/thoughtful/ass-focused level, and for this I apologize.
I can only assure you that my lack of blogging has everything to do with my crushingly-massive workload, and nothing to do with the contempt I hold for my readers, all four of you.
To rectify this unfortunate period of blase blogging, I plan on posting pictures of my cats after work tonight. Hopefully, this will tide you over until I can steal 10 minutes away from a shitty work day and post something compelling. In case you're wondering, the last time I posted a picture of my cats, they looked like this: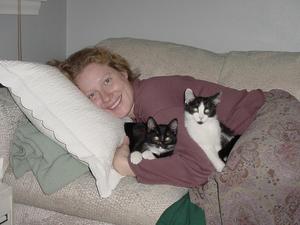 They're bigger now, and they shit more. And they sleep on my chest in the morning and purr extremely loud, so I have to throw them across the room until they hit the wall, and then they come back to do it all again, in a game that I've taken to calling "Goddamn fucking cat! I'm trying to fucking sleep!" I plan on contacting Parker Bros. in the hopes of making it into a board game, sort of like Chutes and Ladders.
Posted by Ryan at July 14, 2005 03:53 PM | TrackBack