Rambling Rhodes Blog Economy Takes Hit
Moderately-read personal Web page sees readership decline
By Ryan Rhodes
Rochester, Minn. (Rhodes Media Services) -- For the first month in about a year (with the exception of a Tara Reid breast spike in Nov. 2004), monthly readership dipped at Rambling Rhodes by about 1,000 visitors.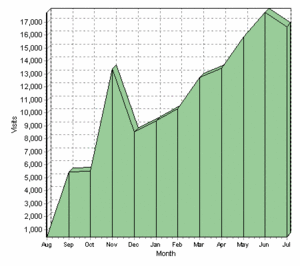 Financial investors in Rambling Rhodes (all none of them), expressed concerns regarding the decline, while a spokeman for the blog assured both readers and potential investors alike that the Rambling Rhodes blog economy is still rock solid. Employment at Rambling Rhodes remains at 100 percent, and all one employees report that their job satisfaction couldn't be higher, according to the spokesman.
"You have to understand, the kind of growth experienced at Rambling Rhodes over the past year just couldn't be maintained into perpetuity," said Ryan Rhodes, Rambling Rhodes CEO/president/marketing director/promoter/spokeman/ink cartridge replacer/porn surfer/toilet cleaning guy. "It had to dip down at some point, you know. Now we, by which I mean I, can get back to the serious business of making Rambling Rhodes a successful blog."
Rhodes said market analysis revealed that some readers have been off-put by the frequently-recurring permutations of a picture of the CEO's naked behind, while others surveyed said the "Dirty Mushroom" is probably the best part of the blog. Still others said they return frequently to see how Nick Coleman columns are being mocked.
"Personally, I think it's about time his Web blog thingee started to lose popularity," said Coleman, Minneapolis Star-Tribune metro columnist and all-around curmudgeon. "Blogs are dangerous things, like extra-sharp scissors, that people shouldn't be reading. Not that you can read scissors, I mean. Well, maybe you can. I'm sure I can come up with a tired and ultimately unfunny cliche about reading scissors, but I'm not going to right now."
Most everyone surveyed agreed that the author probably should limit his dabbling in political opinion because, in the opinion of one reader "he really doesn't seem to know what the hell he's talking about."
Rhodes said that, going forward, he envisions his blog's popularity will rebound and that his investors will be richly rewarded for sticking through these hard times.
"Blogs are a tricky market," said Rhodes. "Each day, hundreds, if not thousands more blogs flash into existence, and a similar number blink quietly out of the blogosphere. It takes tenacious blogging over a long period of time to establish a recognized blog presence on the Internet. We've done that here at Rambling Rhodes. Now we, by which I mean I, have to take this blog to the next level, whatever the hell that will be."
Posted by Ryan at August 1, 2005 03:56 PM | TrackBack