Losing my mind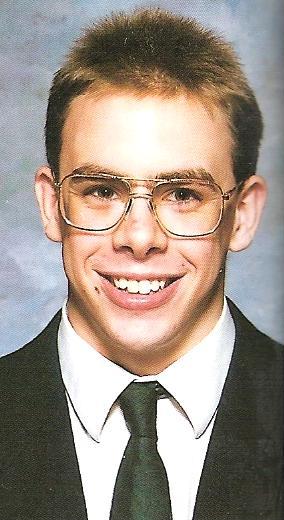 A funny thing happens when you uproot a 17-year-old mid-western lad who lived his entire life in a town of 1,100 people, and you plop him in an Asian metropolis of 23 million people. The funny thing that happens is, he loses his mind. Believe me, it's not pretty.
This picture was the perfect storm of unfortunate circumstances. Obviously, my face is riddled with stress acne, and my smile has all the combined concerns of the last three weeks etched upon it. Also, that very week, I had been touring Kamakura, and I lost a damned contact lens (keeping in mind, this was back in the day when you had one pair, period). So, I had to rely on the "Twin Windshields of Doom" to get me by until new prescription contacts could be sent from the States. The only way I could have looked more uncomfortable in this picture was if there was a ninja standing behind me about to lop off my head.
As horrible as this picture, it really drives home just how out of my element I actually felt. Try to imagine, a gawky, overwhelmed teenage boy walking around Tokyo with his jeans pinned around his ankles. I stood out, man. Like a sore thumb just struck by a hammer.
Oh, also, I was in an all boys school, with a dress code. So, you know, keep that in mind.
Posted by Ryan at March 9, 2009 07:34 PM | TrackBack