Going Commando
Last night, I happened to catch the last 45 minutes of that 80's classic AHNULD movie, Commando. I freakin' LOVED that movie when I was ten years old. I mean, it featured EVERYTHING a pre-pubescent boy weakling could hope for. First off, there was AHNULD at the peak of his muscled musculature, which for whatever reason gave us weaklings an uncertain sense of hope for our future. There was Alyssa Milano, who any boy of my age at that time desperately wanted, even though we weren't particularly sure what we'd do if we actually HAD her, but she still made us think strange and wonderful thoughts in bed at night. There was Rae Dawn Chong, who we all just generally understood was supposed to be pretty hot. And guns, guns, GUNS and killing and impossible M-60 hip shots!
Fast forward 23 years to last night. MY GOD is that movie a horrid piece of bat guano! It's just so BAD! How was it possible I at one point in my life actually bought the character of Bennett as a tough bad guy? I mean, the guy was wearing a chain mail vest, shiny black chaps, and he had a porno guy's moustache. Seriously, look at the guy: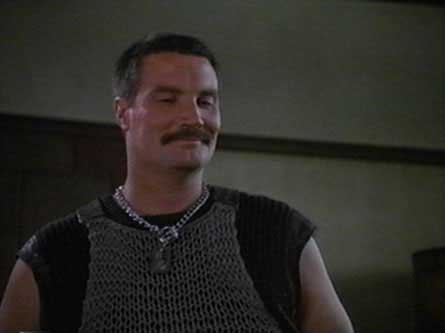 He's one dog chain away from being the next member of the Village People. I thought THAT was the definition of a bad-assed villian? Holy Jeebus. Oh, and I couldn't believe it took me until last night to make the connection that Bennett was also Lord General from Weird Science, from the same freakin' year: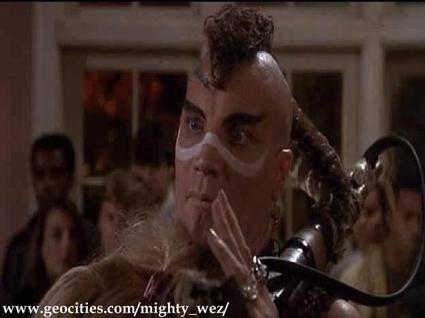 My God. You wouldn't believe how many happy childhood memories went up in nostalgic smoke last night. Even that scene when AHNULD goes ashore with the inflatable raft. Why the Speedo? Why? WHY?! He's going ashore on an island that's fortified and manned by, roughly, 8,000 armed guerillas, or henchmen, or whatever you want to call them--for the purposes of the movie, I guess you can call them "inevitable corpses"--and his clothing of choice for storming the beach is a freakin' Speedo?!
At any rate, there was a moment last night when I was just shocked into silence at the pure dipshittery of that movie, and it made me kinda sad. Oh, and seeing Alyssa Milano as a kid again, and remembering all those awkward childhood nights thinking naughty thoughts about her, made me feel kind of. . . well. . . I don't want to talk about it.
Posted by Ryan at March 12, 2008 11:23 AM | TrackBack