Liveblogging my last day in my 20s
9:00 a.m. -- Today, Feb. 28, 2005, marks my last day as a young man in his 20s. I'll be liveblogging this event as it unfolds, so be sure to check back regularly.
9:09 a.m. -- I shave my head because I'd be bald anyways. It's taken me until just about now to not care about that any more.
9:30 a.m. -- When I was 20 years old, I worked in the meat department of my hometown grocery store during the weekends. I made $5 an hour. I make a lot more than that now.
10 a.m. -- On my 21st birthday, I went bar-hopping around Winona, Minnesota. I got a birthday glass from Brothers Bar and Grill. I still have the glass. . . somewhere.
10:35 a.m. -- When I was 22, I had the longest relationship (one year) with a girl up until my current girlfriend. My 22nd was probably one of the most enjoyable summers of my college years. Her name was Jerusha, and I broke up with her the following summer, in a move I regretted on and off for a few years afterwards. I hope she's doing well and is insanely happy.
11:20 a.m. -- Also when I was 22, in December, I quit my job as a meat department worker at a Winona grocery store I was hired at the Winona Daily News at $5.50 an hour. I worked Tuesdays and Thursdays, from 6 p.m. to 10 p.m., writing obituaries, rewriting police and fire department reports, flowing stock market results into a Quark XPress file, and boiling down press releases. Once a month, I think, I also had to write out court rulings, which was a fascinating window into the lives of local citizens; I learned a lot about who got nailed for speeding, DUI, NSF checks and on and on and on. It was always great to find someone I knew in those reports, and then I'd call them and mercilessly taunt them. Good times. Good times. Except for the pay. That sucked.
1 p.m. -- I graduated from college at 23, following five years of higher eduction, referred to by me and my friends as my "Five Year Plan." I graduated with a mass communications/journalism major and a history minor. I have since been working in some capacity or another in print-related fields, what some people would refer to as my "phony baloney street cred," or, alternately, my "folksy wisdom."
1:22 p.m. -- If I get married in my 30s, it's my sincerest hope that my bride will decide to wear something sensible and fashionable. You know, something like this: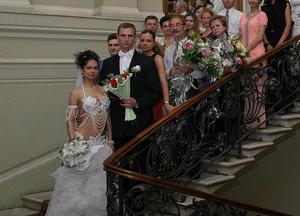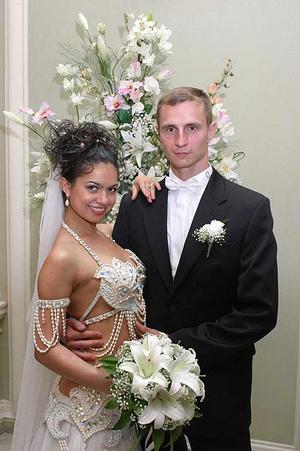 How was the wedding? Tramp-tacular!
2:10 p.m. -- I worked the summer after my graduation at the Winona Daily News as a full-fledged reporter, making a whopping $6 an hour. That was the summer of, like, three huge thunderstorms that absolutely destroyed areas of southeastern Minnesota. That meant grueling, long hours, follow-up stories and all sorts of other reporting that just about put me on the breaking point. After August, the woman I was covering for, who was on maternity leave, returned to the paper, so I was out of a job. I was then unemployed for four months, searching for journalism-related jobs. I spent many consecutive evenings sipping Bacardi and Coke while playing Caesar III. I also read The Rise and Fall of the Third Reich and 1984, as well as others I can't remember right now.
3 p.m. -- Come January of 1999, I finally landed a job at a weekly newspaper called The Stewartville Star. The owners smoked. I mean, they SMOKED. One cigarette after another after another. Which, you know, come ON people, this is a newspaper. Lots of flammable materials all over the place. At that job, I was responsible for EVERYTHING, from school board meetings, to city council meetings, to soft news features to photography. I did it all. I do miss the darkroom photo development hours. I enjoyed that. I still write a humor column for the Star, and I've won a first place award and a runner-up award for my work in that area. Didn't win anything this year though, dammit.
4:30 p.m. -- I'm really glad Million Dollar Baby won Best Picture. Totally deserved it.

Posted by Ryan at February 28, 2005 09:00 AM