It Has Come To My Attention. . .
So, if there's a fly buzzing around a blog, and the author doesn't know it's there, does it really exist?
Apparently, YES: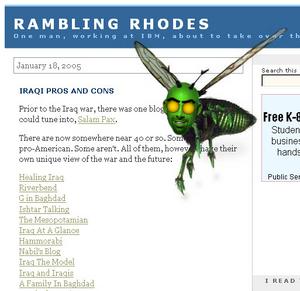 Now, I like a good joke as much as the next guy, and it's pretty obvious that whoever conjured this insectoid avatar of me has some apparent skill and technological savvy, so I salute you, oh tinkerer of blogs. But, still, you can stop now. Please.
I've gone through my blog template code, and I can't see anything that would indicate anything has been added. And, because the fly only appears on some people's browsers and not others, I'm wondering if this is some sort of blog hack by proxy, meaning that it somehow gets downloaded as a kind of Javascript from another site, and only manifests itself on my blog. I don't know. I'm not techie enough to understand how this kind of thing works.
At any rate, please cease and desist with the buzzing fly, unknown blog kung-fu artist. I bow down to your superior skills.
Now, please, swat that fly.
Posted by Ryan at January 19, 2005 09:09 AM