Reaper Denied, Just Barely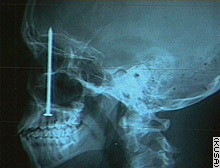 accident.ap/index.html">A dentist found the source of the toothache Patrick Lawler was complaining about on the roof of his mouth -- a four-inch (10-centimeter) nail the construction worker had unknowingly embedded in his skull six days earlier.
That's just so freakin' incredible! I mean, think about it! That nail gun shot two nails at once! amazing! Must have been a Craftsman. They make good nail guns.
Posted by Ryan at January 17, 2005 12:07 PM