The Great Prognosticator
Well, my predictions for 2004 fell somewhat short of realization, but only just. Therefore, I have no problem putting forth my fearless predictions for 2005. Let's begin, shall we?
JANUARY: As per Congressional approval, the U.S. donates, through increased taxes, over $850 trillion to tsunami relief efforts, a move that, though appreciated worldwide, is still considered by most U.N. officials to be considerably "stingy."
The Minnesota Vikings, arguably the stinkiest professional football team to ever stink up a stinking football field, defies all earthly expectations and makes it to the Super Bowl where, falling back to their old ways, they lose in record fashion 89 to 0. Most Minnesotans fail to even notice.
FEBRUARY: Following Iraqi elections marred by a mere 39 suicide car bombings and 101 mortar and rocket attacks, the Iraqi people enthusiastically embrace their new leader: Arnold Schwarzenegger.
Emerging, finally, from the cloud of despair following the November 2004 election, John Kerry supporters start wondering what, exactly, was their candidate's "plan." Forced to respond, Kerry says "oh, that, well, I was just playin' with ya'll."
MARCH: An all-out war between the mainstream media and bloggers erupts when Dan Rather, upon his official retirement, ends his CBS nightly news broadcast by calling bloggers a collective "pajama-clad poopy pants." Bloggers respond by saying "it takes one to know one." Time's "Blog of the Year," Power Line, discovers that Rather made the "poopy pants" claim based, partially, on forged documents.
The seemingly neverending carnival that is the Michael-Jackson-child-sexual-abuse media extravaganza undergoes an unexpected twist when new allegations are made by the "gloved one" himself. In a videotaped confession, Jackson is shown singing that he "loves boys, boys, boys, oh those young boys, boys, boys" while repeatedly grabbing his crotch. Shortly thereafter, Jackson makes light of the new charges brought by himself by dancing on the roof of an SUV.
APRIL: The anxiously-awaited five DVD box set,"Best O' Bin Laden," an exhaustive compilation of the al Queda figurehead's many videotaped invectives against the U.S. and the West sells over 8 million copies worldwide. disappointed buyers, having watched the entire collection, are forced to admit that "jeez, he's a repetitive mother fucker, ain't he?"
The American people, largely living from hand-to-mouth as a result of the tax burden levied upon them to fund the tsunami relief effort, storm the U.N. headquarters in New York when it's discovered that the international governing body has been embezzling billions of dollars in what becomes known as the "U.N. Food for Waves Scandal."
MAY: The war between the mainstream media and bloggers is taken to a new level when the New York Times pens an editorial opining that the Constitution should be amended to prohibit blogging as a personal tool of self-expression, saying that "blogging is a reckless and damaging pursuit that threatens to destablilize pure journalism because those cocksucking bloggers keep pointing out our fuckups, goddamn 'em." Bloggers respond by pointing out that the word "fuckups," should probably be hyphenated.
Michael Moore releases his sequal to "Fahrenheit 9/11" but, because it's not an election year, the movie flops worse than a carp in a rowboat. Alternatively, "Michael Moore Hates America" becomes the most popular and famous movie of all time, outselling even "From Dusk Till Dawn."
JUNE: Responding to criticism regarding its role in the now infamous "Food For Waves Scandal," U.N. officials chastise the American public as being a bunch of whiners and tells Americans as a whole to "stop being so stingy and embrace the socialistic doctrine that everyone should accept as the ideal."
President Bush, on a three month vacation at his ranch in Crawford, Texas, experiences a near death scare after choking, once again, on an errant pretzel. Says Bush of the incident, "Those fucking pretzels, man. . . what can you do?"
JULY: The war between bloggers and the mainstream media heats up when, through exhaustive and meticulous investigation, it's discovered that both Ted Koppel and Peter Jennings are, in fact, muppets. Reaction by the American public is quiet, however, with most people admitting that they pretty much suspected that for years.
NASA deploys its "Deep Impact" spacecract, designed to smash into Comet Tempel 1. NASA officials expect the exercise to go swimmingly, seeing as how they've become accidental experts when it comes to crashing their spacecrafts into shit.
AUGUST: Following months and months of introspection and analysis, Senator John Kerry comes forth, once again, to explain why he lost the 2004 election. Says a resigned Senator Kerry: "I just. . . I don't know. . . I just got fewer votes than I needed, I guess." Freshly-depressed Kerry supporters launch a half-hearted crusade for a new Ohio recount, but they give up the attempt within a half hour, saying "oh, just. . . just. . . just fuck it. You know? Just fuck it."
The Minnesota Vikings win their first pre-season football game. Most Minnesotans fail to even notice, because they've learned after years and years of high hopes and dashed dreams not to put any faith whatsoever in their shitty football team. Said one fan, who asked to remain anonymous: "oh, just. . . just. . . just fuck it. You know? Just fuck it."
SEPTEMBER: Al Jazeera releases a new bin Laden videotape that proves to be a PR nightmare for the al-Queda terrorist network. In the tape, bin Laden is shown reading "My Pet Goat" to a cave full of anxious new recruits just before several bombs land nearby. Says an al-Queda spokesman of the new tape: "Well, that was sure ironic, wasn't it?"
Another shot is fired in the war between the mainstream media and bloggers when retired CBS news anchor Dan Rather starts his own blog, with the expressed purpose to make fun of bloggers. Rather's first blog entry states: "Ooh, look at meeee, I'm a big blogger now. La tee daaa. I'm a big, stinky ankle biter, laa laaa laaa." Blog of the Year, Power Line, posits a theory that Rather's first blog entry may, in fact, be forged.
OCTOBER: Vice-President Dick Cheney finally succumbs due to his 97th heart attack, brought on, experts say, by a pretzel. Shocked by the apparent lethality of pretzels, the White House declares that all pretzels should be considered weapons of mass destruction until further notice. Snack companies nationwide declare bankruptcy within weeks.
The U.S. formally announces that it will roll back the taxes imposed to pay for the $850 trillion tsunami relief. Says President Bush about the historic move: "I think this whole thing has pretty much shown conclusively that, no matter what the U.S. does about anything, it will be viewed by the world theater as either not enough, or just wrong. So, you know? fuck it. Just, fuck it."
NOVEMBER: Sentator John Kerry proposes legislation that would make the month of November a national month of mourning to commemorate his failed bid for the presidency. Although the legislation fails to pass, legions of Kerry supporters observe the month of mourning anyway, because they really don't have anything else to do.
Paris Hilton, realizing it's time to do something with her life BESIDES have sex on camera and tote miniature dogs around, finally decides to get out and learn how to read: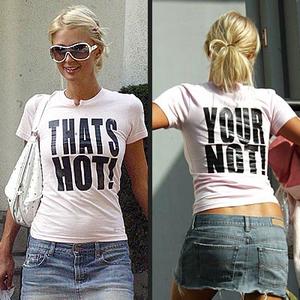 DECEMBER: In the final battle between the mainstream media and bloggers, a cadre of mainstream media representatives, including Dan Rather, Maureen Dowd, Nick Coleman, Brian Williams and Paul Krugman, are arrested while trying to break into the newly-established blogging headquarters located in a Washington D.C. hotel. The ensuing investigations bring down several mainstream media empires while hoisting bloggers up to new levels of both respect and notoriety.
Rambling Rhodes is named TIME's 2005 blog of the year, for many obvious reasons.
Caroline says: Is that going to be included in your 2005 predictions? "Disease Could Mean Illness For Many," and "Paris Hilton Appears in Seventh Sex Tape"
Ryan says: I couldn't get through her first sex tape. I've never, EVER, seen a girl so extremely bored-looking while having sex.
Caroline says: Why...oh, nevermind.
Ryan says: It was like the guy was doing long-division instead of pouring his pulsing man-rod between her velvety curtains.
Ryan says: Damn, that was some pretty steamy prose right there. I'm writing the wrong content.
Caroline says: Oh. Yeah. Baby. Yeah.
Posted by Ryan at January 3, 2005 01:01 PM