Okay, So Maybe I'm Not That Hairy
It's a funny thing about me. Sometimes, after I read a weird news story, say, about some Chinese guy named Yu Zhenhuan, who is touted as the hairiest man alive, so much so that he had to have surgery to remove hair growing in his ears, well, I just feel compelled to hunt down a picture of the guy.
And, sometimes, I'm pretty well horrified by what I find: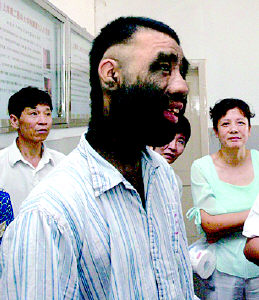 And Jim pointed me to this body shot (via Simon World):
I fear even the wonders of the Mach 3 can't help this man.
Posted by Ryan at August 18, 2004 01:42 PM