A New Look
Since my jiu-jitsu rolling and subsequent numerous launderings has reduced my current uniform/gi into something just a step up from threads, I finally bit the bullet last night and ordered this: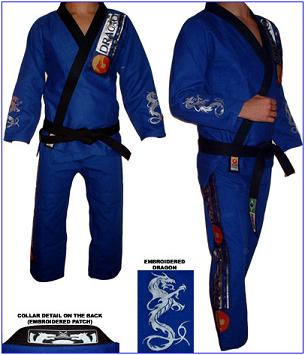 Obviously, mine won't have a black belt, but it should still look pretty slick with a blue belt. I'm all about appearances in jiu-jitsu. Oh, sure, I'll still be tapping out and screaming like a girl, but I'll LOOK GOOD doing it, damnit!
Also, I suppose I should do a shameless shout-out to my Brazilian jiu-jitsu school, the Mario Roberto Jiu-Jitsu Association (MRJJA). Rochester, Minn. and surrounding area residents take note: this is THE place to train if you're at all interested in ground-based self-defense or mixed martial arts. Sure, I'm biased, but this is my ThunderJournal, so I'm allowed to be biased, even shamelessly so.
Posted by Ryan at July 16, 2007 09:10 AM | TrackBack