Liveblogging The 2004 Election
Because this election is, according to some reports, the most important thing to happen to this planet since the first amino acids combined to form the first single celled organism, I feel it is my duty to record this fantabulous day, as it happens. At least until the end of my workday. After that, I'll probably have some other shit to do.
9:05 a.m. -- According to electoral-vote.com, Kerry's going to take this election in a walk, or at least a slow lope, or possibly a brisk jog.
9:16 a.m. -- According to an imaginary, late-breaking poll conducted entirely in my own mind, 86 percent of respondents believe that "Everyone Else Has Had More Sex Than Me."
9:33 a.m. -- It occurs to me that, despite repeated claims that this election was going to be rocked by an October Event, such as the Bush Admin hoisting forth bin Laden up on a platter with an apple jammed in his mouth, or the eradication of a major U.S. city through terrorist machinations, no such October Event occurred. I'm curious if all those raving moonbats who made such outlandish claims along the lines of there "WOULD BE NO ELECTION THIS YEAR" are willing to come forth and eat some crow with a side of humble pie. Just wondering.
9:54 a.m. -- According to this Newsweek article, the guy who wrote this Election 2004 piece has the last name of "Kuntzman."
10:05 a.m. -- In other news, Osama Bin Laden apparently said something about something but, perhaps indicative of the man's diminished significance, not many people apparently give a crap what he has to say about anything.
10:35 a.m. -- Can't get enough of today's astronomically important, if-you-don't-vote-you-should-stripped-naked-and-raked-over-with-cheese-graters election? Well now, in addition to the election results, you can also track election PROBLEMS. Florida and Pennsylvania are among the states experiencing the most problems. I'm shocked. SHOCKED I tell you.
10:56 a.m. -- According to another imaginary poll conducted entirely within my own head, 98 percent of respondents agree that I smell fucking terrific today.
11:14 a.m. -- Just in case you didn't realize it already.
11:41 a.m. -- In a classic case of a headline not matching up with the picture, we have CNN.com: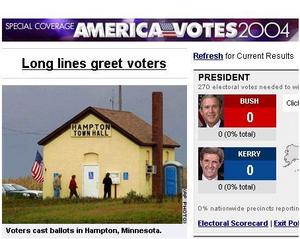 Incidently, I pass that little town hall every time I drive to the Cities. It's cute, don't you think?
12:13 p.m. -- The election morning has passed without incident. Now we move into the unknown world of the election afternoon, followed by, if all goes well, the election evening. I just had two tacos for lunch, and they tasted very, very, not-so-good. I'm not sure what, if anything, that has to do with the election, except that both candidates, too, are very, very, not-so-good.
12:24 p.m. -- Bush takes the Guam vote. Guam? Who knew?
12:48 p.m. -- Well, somebody's going to get a new president.
1:06 p.m. -- Whoa. Electoral-Vote.com has updated, and it now has a single electoral vote between Bush and Kerry, with neither of them having the required number of electoral votes to win. Now, wouldn't THAT be an onion in the ointment. I can't tell you how much I'm hoping for a definitive victory on either side.
1:28 p.m. -- How could he possibly smile with that green monster clamped to his hand?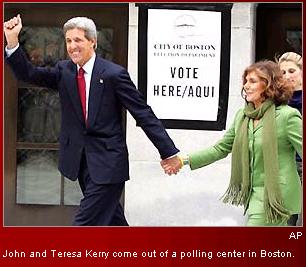 2:18 p.m. -- Well, I think it's fair to say that this election day is reaching a fever pitch. I say this because my Internet access has slowed to a fucking crawl. Good Lord, you'd think I was connected to the Internet through a couple of tin cans and a string.
3:08 p.m. -- It seems odd to me that my polling place, like so many polling places, is in a church. Separation of church and state and all that, you know?
3:32 p.m. -- I'm heading out to vote. I'll let you know how it all turned out, or if I was turned away by MoveOn.org nutters whipping me with a flail. Probably not. This is Rochester, Minn., after all.
4:25 p.m. -- Okay, so that's done. The vote's been cast. It's funny, though. Every time I vote, for some reason I envision the ballot being this wondrous tome where the candidates' names are written in gold leaf. But, it's so deliciously plain, and the leading candidates aren't given special billing or anything. And you also find out that there are a lot of other candidates for president who you probably never even heard about.
Posted by Ryan at November 2, 2004 09:05 AM