The Era of WTF Advertising
One of the hugely unfortunate aspects of the ever-expanding world of the Internet has been the proliferation of largely nonsensical advertisements. Companies eager to have their ads get some kind of attention, ANY KIND of attention are resorting to all sorts of animated tiles that seemily have nothing whatsoever to do with the product or service being advertised. A prime example: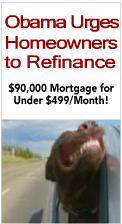 I mean, seriously. WTF?
Posted by Ryan at October 6, 2009 09:39 AM | TrackBack