Let the eagle soar. . .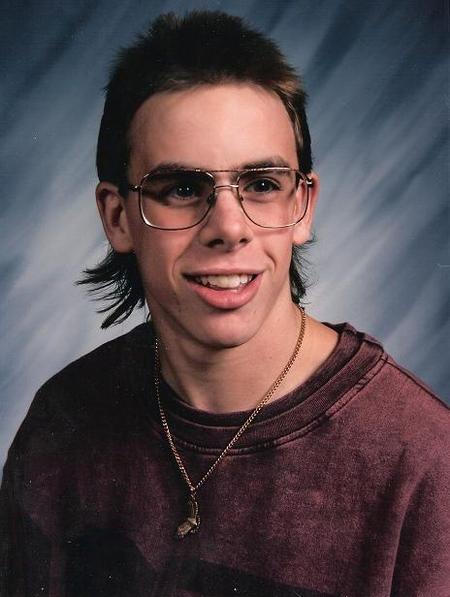 Good God, where to begin? I suppose we can start with the necklace. I really can't make any excuses for the thing. I honestly thought it was cool, which proves that, even though I was an A Honor Roll student, I was actually very stupid.
Now. . . the teeth. I'm sure you noticed it looks like there's only one big front tooth instead of two defined teeth. Okay, remember the denture thing from the previous year? Well, basically, the thing fell out of my mouth while I was swimming in a river during the summer. Considering how freakin' expensive the damned thing was, the local dentist decided to try and glue a temporary tooth into place. I'd had surgery to drill a titanium post into my upper mandible that would one day support a permanent tooth, but since my mouth was still growing, we had to make do with temporary measures.
The glue treatment worked for about two weeks, before a slight bump to my mouth knocked it out again. Rather than go back to the dentist to glue it back in, I came up with the grand idea of using. . . Super Glue. And it worked! For about two weeks, at which point the tooth broke free again and I had to glue it back into place. This was an ongoing process, so by the time this picture was taken, the place holder tooth had enough Super Glue build-up on it to make it look like I was growing plaque as some sort of experiment.
The hair is it's own thing entirely. I have no explanation for that.
Posted by Ryan at March 4, 2009 07:54 PM | TrackBack