How is Ryan Formed?
Well, as I mentioned in my previous post, blogging for the sake of blogging just doesn't cut it any more. Nowadays, blogs need a hook, and it's not as simple as referring to your blog as a ThunderJournal, which was cool in 2006, but I've come to terms with the fact that just won't catch on.
So, I started thinking: "what should I do with my blog," while at the same time I was thinking about what a shame it is that all my old childhood photos aren't in digital format. And so it hit me! Rather than just scan in my old photos for the sake of having them in digital format, why not post them on my ThunderJournal and make fun of them? Together, all five of my regular readers can witness my transformation from adorable toddler to disgruntled postal worker/kid toucher. It's a WIN/WIN idea, really.
So, let's get started!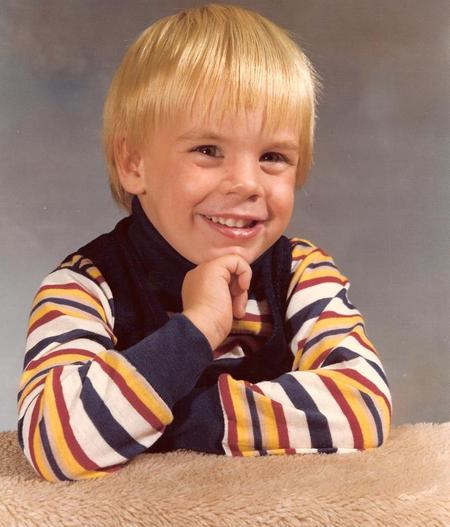 Here I am at the age of two, and this is the first of several outfits that highlights my mother's apparent obsession with horizontal stripes. What remarkable about this shot is how the photographer managed to get me to hold a Rodan's Thinker "thoughtful fist under the chin" pose, while at the same time apparently neglecting to wipe a hardened smear of snot from under my right nostril. Yeah, yeah, I was cute. As we go through the years, however, this blond little Hitler Youth will transform in ways you can't possibly imagine.
Posted by Ryan at February 22, 2009 06:25 PM | TrackBack