Results
I won my first match pretty handedly, 10 to 2. It went the full five minutes, and my opponent was tougher than the score would indicate, so I was freakin' exhausted.
My second match, I thought I was in control, leading 4 to 0, when my opponent scissored my arm between his legs and proceeded to crank a technique that I'm convinced very nearly broke my arm, and I barely had time to tap out. My arm is still sore.
Oh, and I have a nice minor case of cauliflower ear now, which is just great. I've drained it with a sewing needle, but if it gets any bigger, I'll probably have to go the professional route.
I still love jiu-jitsu though. It's awesome.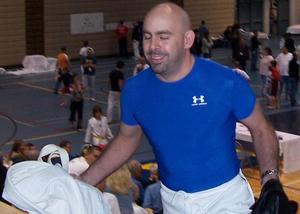 Here I am after a particularly refreshing release of flatulence. Okay, actually, this is a candid picture of me taken before the tournament started. Not flattering, I know, but so few pictures of me are.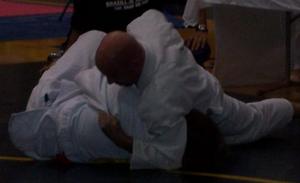 Here I am, winning, in all my blurry, digital-image glory.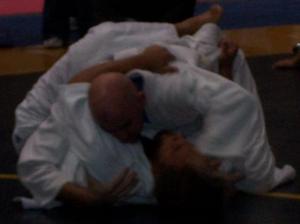 Here I am winning again, this time with just as much blurriness, with just a hint of fuzzy.
Posted by Ryan at September 25, 2006 09:18 AM | TrackBack