Crap On The Carpet Funny (COTCF)
I don't know how familiar any of you are with Fark. I'm not a member because, well, I try to keep away from Internet memberships that require payment. Thankfully, you can still troll Fark just for the surprisingly timely news items and laugh out loud commentary. And their links to a nude Karen Dejo.
But, it's the PhotoShop contests that keep me coming back for more, and today they have a doozy in the works. The theme for the PS contest? "Worst possible spokesperson for common products" Go now. Laugh. Out loud. Jeez, it's worth it for the Sony one alone.
WARNING: This PhotoShop contest goes beyond bad taste with some of the entries. Which, of course, is why I think it's so funny, I suppose.
UPDATE: Here's one example of the hilarity that went on during that PhotoShop contest: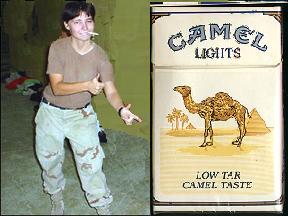 Posted by Ryan at June 16, 2005 02:16 PM