Disclosure
This was going to be a comment in response to David, but it got pretty long:
David:
you are so fucking obviously biased (evidenced by selective outrage and selective memory, as well as the different standards applied to conservative vs. liberal writers) yet you try to pretend you are not
No. I don't. I've responded to you a gazzilion times on this. I view my political stance to be in the Libertarian fold. I've told you this. My blog is a place for my opinions, and those opinions are pretty obvious. If it outrages you that I have these opinions, without stating each and every time that they're my opinions, well, boo fucking hoo. I'm not making a secret out of it, so please fucking try to remember it this time. I'm not sure what you want me to admit to, since I've written here, and on many other blogs, including yours, my opinions, countless times.
And I'm not putting myself out as an unbiased media critic. fucking-A, I write for IBM magazines, and my shit gets infused with so much marketing-speak and legal review, it can hardly be considered unbiased. That's my point, that an unbiased media is a fucking MYTH. I've written shit now for daily and weekly newspapers, as well as magazines, and at each job I've had editors tweak the language because "we don't want to appear biased." Well, fine, but the bias is still there, even though it may not APPEAR to be. Do I tend to sniff at liberal bias more? Probably, because in my opinion liberal bias tries to sneak in under the radar. I mean, Fox News, quite obviously, is awash with conservative bias. They practically scream it at you. MSNBC.com stuff, on the other hand, often slides stuff out that is slanted liberally, yet with more subtlety.
The whole Dan Rather flap, for example. That screamed of liberal bias masquerading as unbiased reporting. I mean, come on. CBS officials agreeing to put an arguably delusional source in contact with the Kerry campaign, for a report about Bush's duty-dodging, THE DAY BEFORE the Kerry campaign unveiled their Fortunate Son message? Puh-lease.
yet you try to pretend you are not, and you hide behind some phony-baloney "professional cred"
You know what? Go fuck yourself. Seriously, insert your penis into your ass, back and forth, till you're sore. Rinse, repeat.
I'm a journalist by education and profession. My experiences in the field are entirely my own, and I have my opinions because of those experiences, most of which have fueled my belief that unbiased media is a, let's say it again, MYTH. If you think that my experiences just equal a "phoney-baloney street cred," well, you can just go fuck off.
Again, I've made no secret that I work for an IBM marketing arm. Ooh, you really got me there. On the same token, I've never claimed to be un-biased. I HAVE claimed that non-bias is a fucking MYTH.
My political leanings, such as they are, are thus:
Stop raising my fucking taxes in a futile attempt to stamp out poverty. I'm sick of it. I work at the IBM marketing arm to make money, and I want that money, so stop taking it away from me to feed Tiny Tim. I can handle some taxation to that end, but only so much. You could take my entire paycheck and put it toward social services, and there would still be people who would STILL be poor and miserable. I'd like to keep that money, thank you. I'm pro-abortion, but not within the third tri-mester. I think women should probably keep the right to vote. I'm flexible on this issue. I'm kidding. I think women should have parity with men, except they shouldn't grow penises. That would be wrong. I'm for the right to bear arms, but I think there should be some limit as to what those arms should be; I don't necessarily think people should be equipped with Street Sweepers, in the off-beat chance an army materializes in front of them. I don't trust the U.N. As of just a couple years ago, I thought they were God's gift to world order; now I don't think that. I think the U.N. is a corrupt, do-nothing monolith that enables dictatorships. I think the U.N. is, in fact, an impediment to world stability. I don't think all that much of President Bush. I think entirely less of Sen. Kerry. I think Howard Dean is a self-important ass. I'm sick and fucking tired of hearing that the GOP is a party of evil, fat cat, power-mongers, and permutations on that theme. I think hardcore pornography rocks! I tend to side with the Israeli cause rather than the Palestinians. I think gays should be able to marry whoever they fucking want, just please don't kiss and fondle in front of me because. . . *shudder* Unless you're a lesbian, then please, chow box in front of me. Unless you're Rosie O'Donnell, then please, don't. I think the Middle East is a cesspool that can probably only be changed through aggressive diplomacy with the very real threat of military force. I'm pissed off that all those fucking dinosaurs had to go and die over there, and then decay, and become oil deposits under all that fucking useless desert sand. I think France is silly. I think Great Britain kicks ass. Australia, too. Japan also. I don't trust China. Or Iran. Or Uzbekistan, because they're always up to something. So is Portugal. I love the United States of America, even when it sucks.
Please, David, let me know if I've missed anything here.
UPDATE: To augment all of my above points, Simon just provided me with a "picture-worth-a-thousand-words."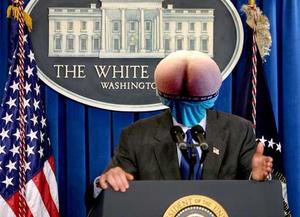 Posted by Ryan at February 4, 2005 11:10 AM