Apologies
Yesterday, I was taken down by the mother of all migraines. I slept as long as I could, and then, because you basically can't do anything during a migraine, I laid in bed with my eyes closed, throwing the occasional kitten across the room because their purring made my eyes hurt.
Today, I'll be traveling to the Cities for a Christmas party of sorts--we'll be going bowling--with all my MSP Communications employees. Hopefully, there will be a Christmas bonus forthcoming.
Anyway, the point is, I won't be blogging, probably not until Monday. So, I'll leave you with some pandas photoshopped as Kiss members, and leave it at that.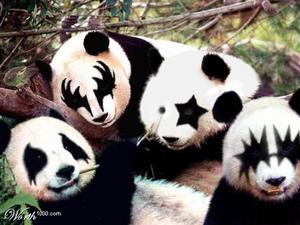 Posted by Ryan at December 17, 2004 09:38 AM