First Ever Catblogging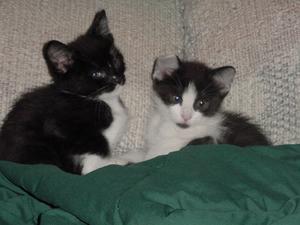 This is Kat (left) and Kit (not-left). Kit and Kat are kittens. Kit and Kat are my kittens, and you will address them as Lords Kit and Kat, for one day, though they are small now, they will return to the jungle and regain their rightful place as Kings after they defeat in battle their evil uncle, Scar.
And, no, getting a kitten, let alone two kittens, was not my idea. It was the brainchild of my entirely-too-persuasive girlfriend. That combined with the unfortunate convenience that her sister's cat had kittens, pretty much sealed the deal.
We picked them up last Friday night. Saturday morning, Kit peed on me while I slept in bed. By 2 p.m. that day, that damned cat had learned to use the little box.
That is all for this catblogging entry.
Posted by Ryan at October 12, 2004 08:26 PM