Chicks I Think Are Hot
Starting this week, I've decided to try my hand at posting the names and, when applicable, pictures, of chicks who I think are hot. This week:
Daisy Fuentes.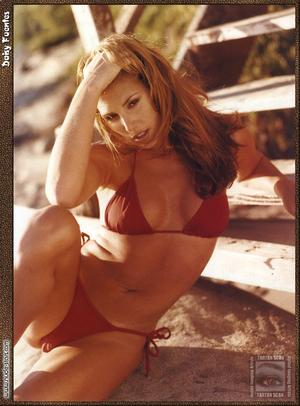 This picture was chose because it's the closest I could find to a genuine camel toe shot.
Daisy really didn't appeal to me much when she was on MTV, primarily because she was on MTV at roughly the same time that Cindy Crawford was doing House of Style, and as a puberty-stricken youth, Cindy had my full attention. I first took real notice of Daisy when she was co-host of America's Funniest Home Videos and, since then, she has maintained her wondrous shape rather than descending into the gross skeletal ideal sought after by the likes of Cameron Diaz.
Yes, Daisy Fuentes. I salute you, because my other hand is busy right now. . . doing something.
Posted by Ryan at August 24, 2004 11:29 AM