Joshua's Gonna Hate Me For This, But. . .
If you've read this site at all within the past year or so, you know that I occasionally (by which I mean, all the damned time), end up mixing it up with one Joshua Norton, who I respect the hell out of but disagree with even more.
Anyway, what's always bothered me was that I had no mental visual image of Joshua, beyond thinking of him as a lumbering hulk of a man who could probably squash me with his thumb and forefinger.
But, gradually, I started thinking of him more and more in geeky terms. Lately, for some strange but entirely hysterical reason, I've been reading his site and his comments through a voice in my head that's high-pitched, whiney, and just a little bit nasal. I found that, by doing this, I could better absord his acerbic commentary. However, even though the voice in my head was extremely familiar, I couldn't figure out why. Until today, just now.
Combined with Joshua's own description of himself. . .
Kind of more of an Eric Bana / George Clooney combo (or so I've been told)-- except with glasses. And 6'4"
. . . along with the cartoon image of himself on the Noematic main page. . .
. . . along with the conjured voice within my head, it came to me who Joshua reminds me of. He's the Encyclopedia Britannica Boy!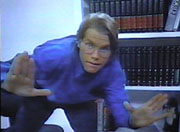 If you don't remember the Britannica Boy, be sure to thank your lucky stars each and every day.
(with sincerest apologies to Joshua Norton, who could no doubt squash my head with his thumb and forefinger)
Posted by Ryan at May 11, 2004 11:01 AM