Most Favorite Picture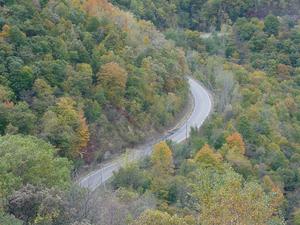 I love this pic. Not sure why. Probably nostalgic.
UPDATE: Sorry about that, all. I was half asleep when I posted this pic and didn't tell you anything about it. This is a road that winds itself down into Winona, MN, where I went to college. I took this picture twice, actually. The first time, I was becoming familiar with my camera because I was taking a photography class. It was pretty much the most super awesome picture on a roll of 36 pictures. The second time I took this picture was about four years ago (the picture you see here) when I was trying to figure out my new digital camera. Still one of my favorite pics that I ever took.
Posted by Ryan at April 16, 2004 12:35 AM